Start localizing your knowledge base articles on Lingpad
Localizing your extensive knowledge base is a crucial but taxing process. For a detailed step-by-step guide
on to know how you can localize your Zendesk Guide content on Lingpad
, scroll down to the section after the video tutorial.
Video Tutorial

Head to your Zendesk Guide project and click on the "Languages" tab to start localizing the organization's help center content.

Select target language from the Languages tab

To localize your knowledge base, you can invite your own team members, external translators, and localization partners. Alternatively, you can place an order with our preferred Language Service Partners (LSP) through Lingpad by clicking on the "Order" icon at the top-right corner of your Lingpad dashboard.




The translation statuses of all articles are automatically updated in the language section. Go to Languages > select the relevant language. The Translation Progress bar will alter in real-time depending upon the translations' status.

Note: The status of the articles in Zendesk Guide — published or drafts — will be reflected on Lingpad.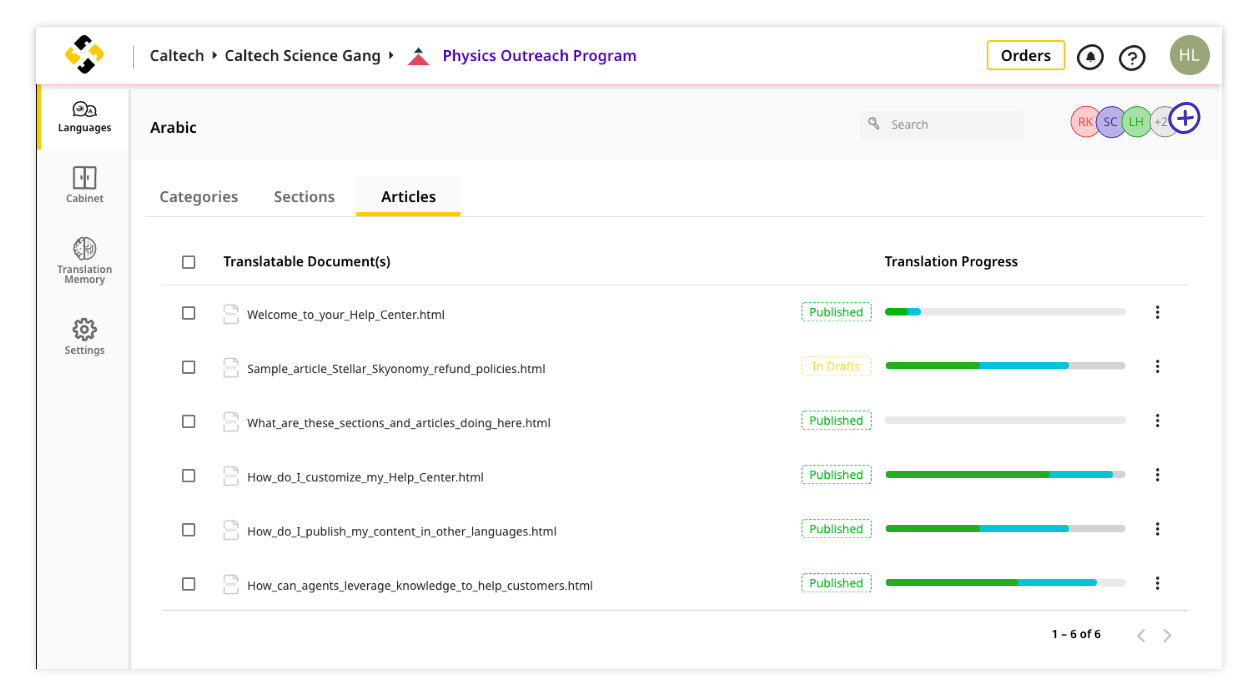 Place translation order
Related Articles

How to push translated knowledge base articles to Zendesk Guide from Lingpad and Reconnect

Now that you have successfully achieved multilingual localization of your help center articles, it is time to export them to Zendesk and publish it. For a detailed step-by-step guide, scroll down to the section after the video tutorial. Video ...

How to pull content from Zendesk to Lingpad for Admins

Once you have created the Zendesk Guide project on Lingpad, all you have to do is bring the content residing in your Zendesk Guide over to Lingpad. Your project on Lingpad will become the single source of truth where you can import all the knowledge ...

Creating a Lingpad account

Ready to become a part of the Lingpad fan club? The Lingpad team welcomes you to experience how effortless localization can be. Sign up Click this link to start creating your Lingpad account. 1. Enter the required details and click Sign Up. 2. You'll ...

What makes Lingpad unique

Lingpad is a cloud-based professional, translation management system (TMS) for users to automate and efficiently manage their company-wide localisation processes. Lingpad is designed to help diverse teams work together under one single dashboard with ...

Lingpad App Settings on Zendesk

Head to your Zendesk Dashboard to personalise your Lingpad App settings on Zendesk. Tip: If Lingpad doesn't show up in the Apps section, click Refresh. If Lingpad doesn't load after refreshing the page, please ensure that third-party cookies are ...