How to push translated knowledge base articles to Zendesk Guide from Lingpad and Reconnect
Now that you have successfully achieved multilingual localization of your help center articles, it is time to export them to Zendesk and publish it. For a detailed step-by-step guide, scroll down to the section after the video tutorial.
Video Tutorial

Head to your Zendesk Guide project > click on the "Settings" tab and go to the "Push Content" tab to start exporting the translated knowledge base content to Zendesk.

Click "Push Now" button.

Export to Zendesk




Note: If the target language's articles are missing the translations in certain segments, it will immediately populate the content from the relevant segment in the default language to the translations file. This way, there is no loss of information, and the translation status on Lingpad will still reflect the number of words left to be translated.
Settings
If the connection between Zendesk and Lingpad is broken, head to Domain Details within Settings and add the relevant Zendesk subdomain. Click Reconnect and voila, your Lingpad and Zendesk integration will be reconfigured successfully!


Note: The Reconnect button and subdomain field under the Domain Details tab with be enabled only when the connection between Zendesk and Lingpad is broken.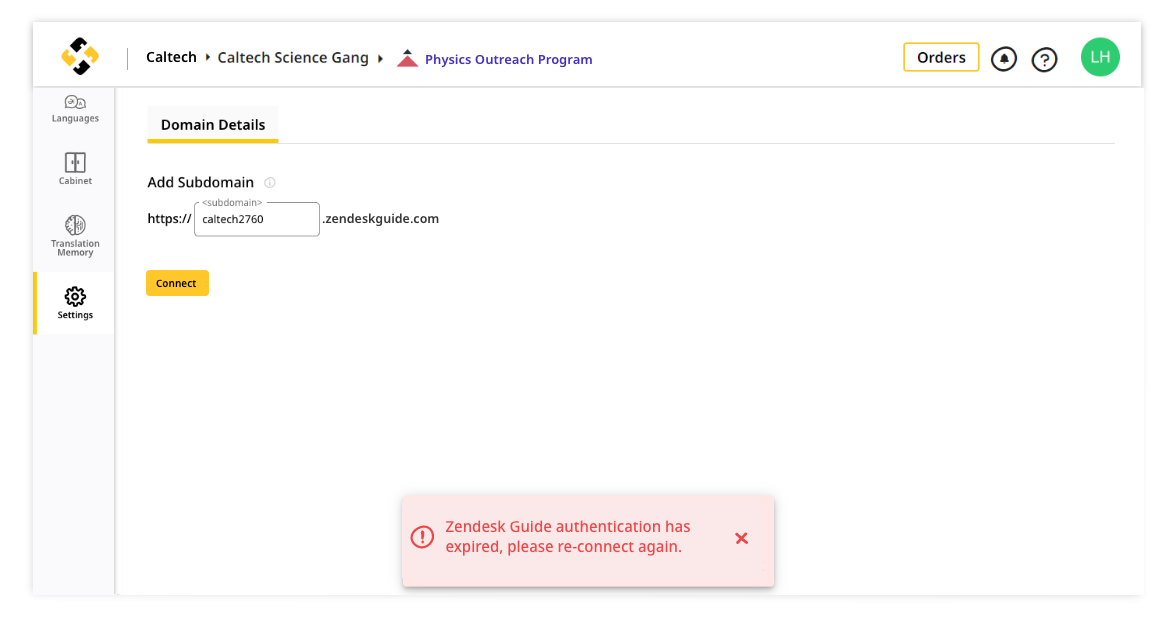 Reconnect Zendesk with Lingpad
Related Articles

Start localizing your knowledge base articles on Lingpad

Localizing your extensive knowledge base is a crucial but taxing process. For a detailed step-by-step guide on to know how you can localize your Zendesk Guide content on Lingpad, scroll down to the section after the video tutorial. Video Tutorial ...

Getting Started with Zendesk Guide for Admins

The Lingpad X Zendesk Guide integration is a scalable solution to localize, manage and update your knowledge base articles stored on Zendesk. A single source of truth to automate your multilingual customer service efficiently! You can set up a ...

Lingpad App Settings on Zendesk

Head to your Zendesk Dashboard to personalise your Lingpad App settings on Zendesk. Tip: If Lingpad doesn't show up in the Apps section, click Refresh. If Lingpad doesn't load after refreshing the page, please ensure that third-party cookies are ...

How to pull content from Zendesk to Lingpad for Admins

Once you have created the Zendesk Guide project on Lingpad, all you have to do is bring the content residing in your Zendesk Guide over to Lingpad. Your project on Lingpad will become the single source of truth where you can import all the knowledge ...

Understanding your Zendesk Integration Project's Dashboard on Lingpad - For Admins

Lingpad App for Zendesk is equipped with extensive features to make your customer-service journey seamless, efficient and effortless. In this article, you will learn how to view all the Lingpad orders placed via Zendesk Support. For a detailed ...